Changing World Concert
Double Audio-CD and Double DVD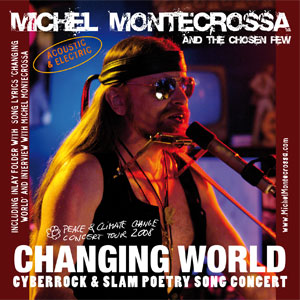 'Changing World' is Michel Montecrossa's second great cyberrock & slam poetry concert of his 'Peace & Climate Change Concert Tour' released by Mira Sound Germany on double Audio-CD and double DVD presenting 35 Michel Montecrossa super songs that make everyone listen.
Included are stunning topical songs like 'It's Still Heaven And Hell', 'Ecological Music #2', the german 'Gift', the band version of 'Sunray Revolution', the power-guitar version of 'Earthrocker Callin' You', a killer version of 'Vomit Of Your Soul' and masterful 'Truth Of The Moment'. Mirakali and Diana Antara contribute their duo 'Green Girls'.
About 'Changing World' Michel Montecrossa says: "CHANGING WORLD presents songs about our times. The environment changes and we face an urgent need for change of consciousness. New thinkin', new awareness, new attitudes are needed. We must change our habits. We must adapt to the unfolding crisis. We must confront daring questions and chilling consequences. We must be ready to live on a planet with dwindling resources. We must halt global energy wars. We must find new ways of progress. They are there in our consciousness - if it changes.
That's what CHANGING WORLD is all about."