Child Of Tomorrow Concert
Double Audio-CD and double DVD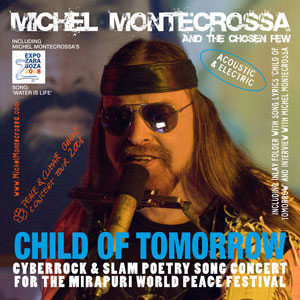 'Child Of Tomorrow' is Michel Montecrossa's thirteenth cyberrock & slam poetry concert which he and his band performed during the Mirapuri World Peace Festival 2008.
It is another step and a new level of his 'Peace & Climate Change Concert Tour' released by Mira Sound Germany as Double Audio-CD and double DVD presenting 29 grandiose Michel Montecrossa songs that hit the essence including the title song 'Child Of Tomorrow' and stunning awareness songs like 'Acts', 'What Counts In The End', 'Love Is Life', 'Kommt Wieder Ihr Menschen', 'Weltfrieden', 'The Great Origin', 'Child Of Our Days' and 'Song From The Home Of Love'.
Mirakali and Diana Antara contribute message songs like 'One With The World' and 'Newborn Earth'.
About 'Child Of Tomorrow' Michel Montecrossa says: "Who is the child of tomorrow? Is it the one that comes with the sense of unity, peace, love and joy ending all bloodshed and bitter misunderstanding?
The child of tomorrow is first born in us who already live. Are we living unity, peace, love and joy?
Think straight and you know the answer of the future."