Earth Mystery Cybersymphony & Song Concert
Double Audio-CD and Double DVD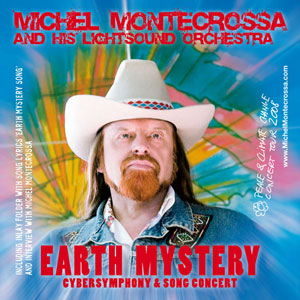 'Earth Mystery' is Michel Montecrossa's 29th Peace & Climate Change concert presenting new ways of looking at the question of changing human civilization. Released by Mira Sound Germany as Double Audio-CD and double DVD the production presents 24 great Michel Montecrossa songs including the title song 'Earth Mystery Song', the symphonic 'Skywave' and the poetic 'Song From The Home Of Love'.
Mirakali and Diana Antara contribute artistic songs like 'Wave Of Dawn' and 'Planetdream'.
About 'Earth Mystery' Michel Montecrossa says: "The earth mystery is revealed in every blooming rose and in our feeling of how lovely and fair she is.
The earth mystery is revealed in every moment of soul meeting nature and of nature touching soul. The earth mystery is revealed when in love we turn to her."