Future Vision Cyberrock & Slam Poetry Song Concert
Double Audio-CD and double DVD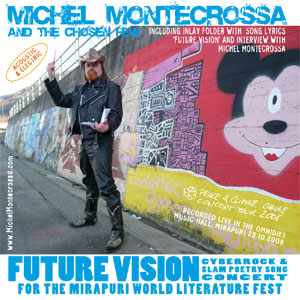 'Future Vision' is Michel Montecrossa's 31st Peace & Climate Change concert which he and his band performed during the Mirapuri World Literature Fest 2008 presenting new ways of looking at the question of changing environment. Released by Mira Sound Germany as Double Audio-CD and double DVD the production presents 34 great Michel Montecrossa songs including the title song 'Future Vision', the 'Message From Barack Obama To Michel Montecrossa', the invocatory 'Mother Earth' and great acoustic versions of 'Ballad Of Lost Dreams' and 'Feel The Wild Wind'.
Mirakali and Diana Antara contribute message songs like 'Lovers Forever' and 'Breath Of Life'.
About 'Future Vision' Michel Montecrossa says: "Love is Divine. Emotion is Human. Arousal is Terrestrial.
The drive of consciousness gives vision. Vision shows cosmic unity. Unity gives peace and joy.
Tomorrow's world-leaders are astronauts. They see how small our planet is and how great is love. They see the tenderness and fragility of the earth's atmosphere.
Love unites and is good for the earth and its atmosphere.
When you reach the contact with the Divine's love you see this love in everything and all circumstances."