Light Energy Concert
Double Audio-CD and Double DVD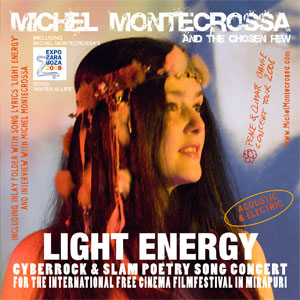 'Light Energy' is Michel Montecrossa's tenth cyberrock & slam poetry concert which he and his band performed during the International Free Cinema Filmfestival 2008 in Mirapuri.
It is another step and a new level of his 'Peace & Climate Change Concert Tour' released by Mira Sound Germany as double Audio-CDs and double DVDs presenting 28 Michel Montecrossa's theme songs including the title song 'Light Energy', the joyous 'Sundrive: I Like It', the far reaching 'Solar Evolution & Suntomorrow' and the powerful 'World Energy'.
Mirakali and Diana Antara contribute topical and heartfelt songs like 'Never Too Late' and 'Happy Life Of Love'.
About 'Light Energy' Michel Montecrossa says: "The original light and the planetary light, the light of consciousness and the light of the sun is one light energy creating all.
Songs can be light in the darkness when intelligence burns out.
Songs are like inner movies bringin' back the dream and realizing power when they are true to the purpose and in love with life – when they have soul-energy and are full of light."