Peace & Light Cybersymphony and Song Concert
Two Parts on two double Audio and DVD Boxes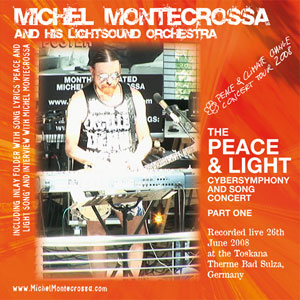 'Peace & Light' is Michel Montecrossa's eleventh concert of his 'Peace & Climate Change Tour' released by Mira Sound Germany as two parts on two double Audio and DVD boxes presenting 30 cybersymphonic instrumentals and poetic songs by Michel Montecrossa and his Lightsound Orchestra.
Performed at the Toskana Therme Bad Sulza, Germany it is together with the inspiring Bonus-DVDs a highly artistic meditation event and masterpiece of wellness-music including the 'Peace and Light Song & Overture', the 'Peace & Light Theme' and the touching version of 'Believe In Your Dream' as the finale song.
Mirakali and Diana Antara contribute heart songs and symphonic instrumentals like 'Sweetest Bliss', 'Planet Ocean', 'Timeless Flight' and 'Endless Love'.
About 'Peace & Light' Michel Montecrossa says: "Peace and Light go hand in hand. They are the kind heart and wisdom of love. Power-Peace they are and bright hope.
Light is energy and energy brings peace. It ends all energy-wars.
Inner light heals trouble, gives peace of soul. Peace and Light change confusion and conflicts into harmony of the all.
Harmony is good for planet earth. Peace and Light heal the climate of the world and its beings everywhere."