Planet Cyberrock & Slam Poetry Song Concert
6 CD-Box with three Audio-CDs and 3 DVDs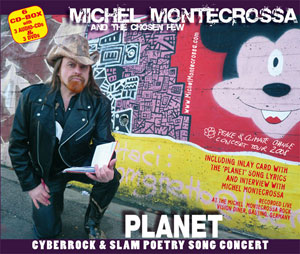 'Planet' is Michel Montecrossa's 30th Peace & Climate Change concert presenting new ways of looking at the question of human civilization in transit. Released by Mira Sound Germany as six CD-Box with three Audio-CDs and three DVDs the production presents 38 great Michel Montecrossa songs including the title song 'Planet', the electric version of 'New President' and 'Russia And America Rock'.
Mirakali and Diana Antara contribute message songs like 'Earth Goddess' and 'Demonhunter'.
About 'Planet' Michel Montecrossa says: "The demons that ride humanity are like volcanos erupting, like waves surging, like thunderstorms growling, like cyclones howling, like fire screaming, like earthquakes rumbling, like sunrays burning, like ice melting, like oceans and rivers rising, like deserts expanding, like global warming, like ice-age coming, like climate changing, like air mutating, like water fading – the brain echoes of the planet's language, the call of evolution, the drive of consciousness growing.
From within or from without: It's the way of change. Listen to the planet, listen to the soul, understand destiny and know what to do."