Saving Message
Audio-CD and DVD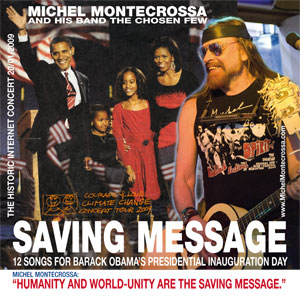 'Saving Message' is Michel Montecrossa's historic opening concert of the Courage & Love Climate Change Concert Tour 2009 presenting 12 songs inspired by Barack Obama's presidential inauguration on 20/01/2009.
Released by Mira Sound Germany as Audio-CD and DVD it includes the songs: 'Saving Message', 'New President #2', 'True Politics #2', 'Wake Up', 'Another World', 'Climate Generation', 'Changing World', 'Freedomfire Burnin'', 'Good Relations Save The Earth', 'Talkin' World Unity #2', 'Forgiveness Heals', 'Living On A Planet'.
About 'Saving Message' Michel Montecrossa says: "Humanity and world-unity are the saving message. It is a saving message and true victory to be always on the side of freedom and progress with courage and love.
It brings to our world the living celebration of humanity and opens the way to world-unity.
Then the day comes when all barriers have fallen, within and around us and we can feel like the bird that opens its wings for an unopposed soar."