War Kills Concert
Double Audio-CD and Double DVD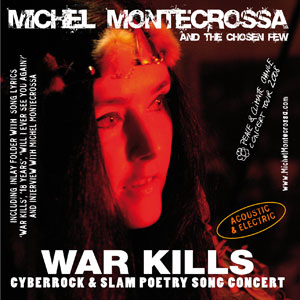 'War Kills' is Michel Montecrossa's fourth great cyberrock & slam poetry concert of his 'Peace & Climate Change Concert Tour' released by Mira Sound Germany on double Audio-CD and double DVD presenting 35 Michel Montecrossa super songs that make you listen. Included are stunning topical songs like 'War Kills', '18 Years', 'Will I Ever See You Again?', 'As The Battle Came To An End', the band version of 'War Is Hell', the german killersong 'Das Weite', and blockbusters like 'The King Is Comin'', 'Rebellion', 'Trouble Double Rocker' and 'Fuck The Brainwash'.
Mirakali and Diana Antara contribute powerful songs like 'Wanna Survive?' and 'Wild Hearts'.
About 'War Kills' Michel Montecrossa says: "A song can be the conscience of the world. It can be the voice that rights what went wrong. Such a song is a true topical song. It is a song stirring emotions. It is the song remembered by generations. It is the song telling the story that moves others to think. Such a song comes from the future and is as old as man's time on earth.
It is a broadside from the depth of a voice stirred by love, going beyond all anger, sorrow, disgust and contempt. It sings 'War Kills' in the streets and on data-highways.
It is the song open to the vision that replaces law by freedom."