FLASHBACK
MIRAPURI RAINBOW GATHERING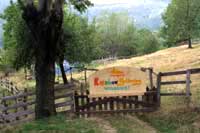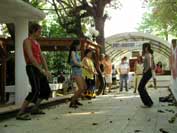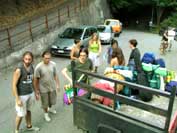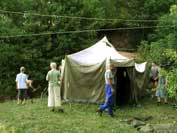 Rainbow People from various european countries join the Mirapuri Rainbow Gathering and create an atmosphere of peace and happy sharing in the beautiful surrounding of Mirapuri's New Ranch.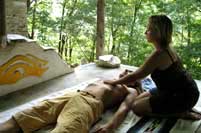 The Rainbow People spontaneously create workshops for drumming, massage, juggling, meditation, bodyawareness, hatha yoga, reiki and more.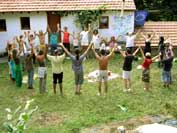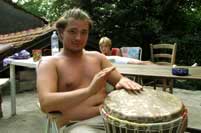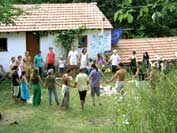 Creative being together and talkin' circles, chanting and heartfelt evening fests create a big family.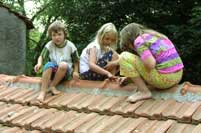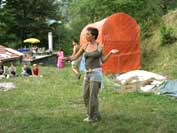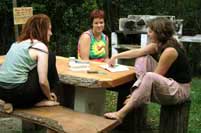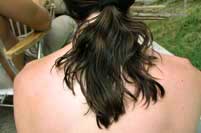 This spirit of unity embraces all activities of the coming days and their selforganizing energies. The magic hat, cooking, and all community work is an expression of good will and cooperation.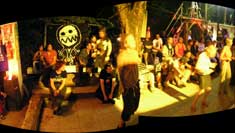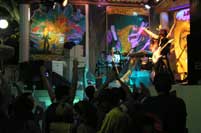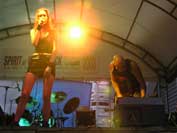 The dynamic unplugged music of the Rainbow People joines the open air concerts of the Spirit of Woodstock Festival in Mirapuri which takes place at the Omnidiet Festival area about 30 min. walking distance from the Rainbow Gathering at the New Ranch.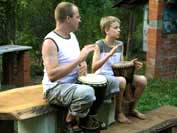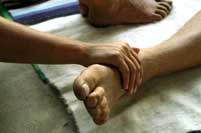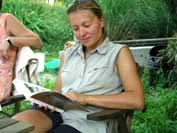 The Mirapuri Rainbow Gathering is an intense, colorful and uplifting community experience which makes everybody happy, and many shed a tear at the farewell and want to come back for the next Mirapuri Rainbow Gathering.
RAINBOW PEOPLE COMMENTS
The place is so lovely, natural and peaceful, we really did enjoy our time there … I hope we will see you all again. We love the Mirapuri Community and felt very welcome. Thank you all so much.
Anne, Vikki and Oliver, England

Grazie per quello che avete dato, per il calore che mi avete donato. Da cosi poco che vi conosco, ma per me siete una famiglia, come se vi conoscesssi da sempre. In qualque modo voi siete e sarete per sempre parte integrante della mia vita. Siete tutti fantastici.

I will always love you! Thank you for all!!!

Danke für das was ihr mir gegeben habt, für die Wärme die ihr mir geschenkt habt. Ich kenne euch erst seit so kurzer Zeit, aber für mich seid ihr eine Familie; es ist so als ob ich euch schon immer kennen würde. In gewisser Weise seid und werdet ihr immer ein unentbehrlicher Teil meines Lebens sein. Ihr alle seid fantastisch. Ich werde euch immer lieben.
Danke für alles!!! Matteo

Love and happiness we found also in the most strange gathering we ever have been. People, we hope to see you soon again, wherever or "in la diskotheca."
Love and light brothers and sisters
I thank you for all! Sonia, Italy

See you! Stefano, Italy

Thank you all for this nice meeting. I felt like in a big family and it was a beautiful gift to meet everyone of you, so special people, in this close atmosphere. Would be beautiful to meet one or the other again at a time.....Thank you for this wonderful time, where people didn't know each other just lived together in peace and harmony, having fun and sharing parts of their lives.
Love, Love, Love most important thing in life. With the the best wishes for everyone.
Silja Germany

Thank you for the opportunity you have give to me to feel myself so welcomed... All the nice People l've meet here had teach to me how much is important to be in e such wonderful atmosphere... I will try to suround me in this energy for the rest of my life.
I feel myself so well....
Marco, Italy

Vielen dank für alles! Wir sind wirklich zusammen gewachsen. Es war echt spannend. Ich habe viel dazu gelernt. Vor allem habe ich eins gefühlt:
Die Liebe ist der Weg!
Margie + Horst + Natalie + Elia, Deutschland

Thank you so much for everything.
All you need is Love
Take care
Ray, Berlin

magic moments, beautiful people.
Jamal, England

A most different rainbow, nevertheless a wonderful week, with really lovely people.
Thank you all so much for this experience!
May love rule you all the time.
Bernd, Germany

Glücksbärchen Wonderland
Moka, Deutschland

Vi Vogli o troppo bene!!!!
Simon, Italy

Mi mancherete molto!!!
Alberto, Italy
ORIGIN OF THE INTERNATIONAL RAINBOW GATHERING
"When the earth is ravaged and the animals are dying,
a new tribe of people shall come unto the earth
from many colors, classes, creeds, and who by their actions and deeds
shall make the earth green again.
They will be known as the warriors of the Rainbow"
-- Old Native American Prophecy

Following the inspiration of this prophecy the Rainbow Gatherings started 1972 near Aspen, Colorado and since then take place every year in many places all over the world.
In the invitation to the first Gathering in 1972 the idea was expressed as follows:
"We, who are brothers & sisters, children of God, families of life on earth, friends of nature & of all people, children of humankind calling ourselves Rainbow Family Tribe, humbly invite:
All races, peoples, tribes, communes, men, women, children, individuals -- out of love.
All nations & national leaders -- out of respect
All religions & religious leaders -- out of faith
All politicians -- out of charity
to join with us in gathering together for the purpose of expressing our sincere desire that there shall be peace on earth, harmony among all people. To hold open worship, prayer, chanting or whatever is the want or desire of the people, … that there be a meditative, contemplative silence wherein we, the invited people of the world may consider & give honour & respect to anyone or anything that has aided in the positive evolution of humankind & nature upon this, our most beloved & beautiful world -- asking blessing upon we people of this world & hope that we people can effectively proceed to evolve, expand, & live in harmony & peace …"
The Mirapuri Rainbow Gathering continues the spirit of the original Rainbow Inspiration.