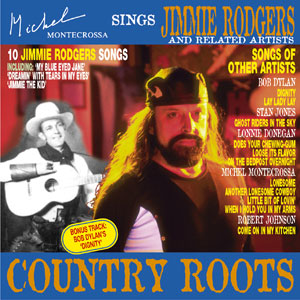 Country Roots
Michel Montecrossa
sings Jimmie Rodgers and releated Artists
Michel Montecrossa's song-collection 'Country Roots' is about Jimmie Rodgers the 'Singing Brakeman and Blue Yodeler' and 'Father of Country Music', as he was called later, and some of the artists who are part of the great stream of music's mystery Jimmie set free, like Bob Dylan and his Visionary Music, Cowboy Songwriter Stan Jones, Skiffle Man Lonnie Donegan, CyberRocker Michel Montecrossa and Jimmie Rodgers' contemporary, the Blues-Legend Robert Johnson. Michel Montecrossa presents them all in his own essential style singing from the heart of their individuality. It is the direct, unlimited realness of 10 of Jimmie Rodgers' songs that forms the core of Michel Montecrossa's 'Country Roots'.
The Jimmie Rodgers songs are:
'JIMMIE THE KID', an autobiographical song reflecting Jimmie Rodgers' way up from water carrier to brakeman when he followed his father into the Mobile and Ohio Railway, enjoying traveling the country, hearing the music of different areas, observing the social conditions and making his way to the top. 'ANY OLD TIME' is one of the many songs delivering Jimmie's message, as Bob Dylan says "like nectar that can drill through steel". 'PRAIRIE LULLABY' in its tenderness is as charming as is the playful and joyfully dynamic 'PISTOL PACKIN' PAPA' or the direct talking 'LOOKING FOR A NEW MAMA'. 'Frankie and Johnny' is a well known folk song Jimmie Rodgers too performed in his unique way. Michel Montecrossa presents it as 'FRANKIE AND JOHNNY ALIVE' giving the story of loss and finding a special turn. 'I'M LONESOME TOO', the heartbreaking 'DREAMIN' WITH TEARS IN MY EYES' and the yearning 'MY BLUE EYED JANE' as well as the scary 'GAMBLIN' BAR ROOM BLUES' are four more masterpieces of Jimmie Rodgers' genius and power to "get into the mystery of life and death without saying too much", as Bob Dylan puts it. Jimmie Rodgers has been, is and will always be a force of inspiration for unnumbered musicians through his living individuality, his seriousness, his humor and his Blue Yodel Trademark because he is, as in the Warren Smith ballad, the man who "... held your hand and sang you a song."
Songs by other artists:
The Bob Dylan song 'DIGNITY' was chosen by Michel Montecrossa as the opening track. "It reflects the quest of Jimmie Rodgers' life", says Michel Montecrossa, "as much as it reflects the meaning of every true life sensing and looking for the inmost reality. It is thus a fitting prologue to Jimmie's songs. In the same way is Bob Dylan's 'LAY LADY LAY' a salute to Jimmie's art of giving the message between the lines, 'like the smell of flowers' as Bob says."
Jimmie Rodgers 'GHOST RIDERS IN THE SKY' the cowboy-myth by Stan Jones, the hilarious Lonnie Donegan skiffle song 'DOES YOUR CHEWING-GUM LOSE ITS FLAVOR ON THE BEDPOST OVER NIGHT' and the profound Robert Johnson blues 'COME ON IN MY KITCHEN' are included by Michel Montecrossa "as three examples of artists and songs of different times and backgrounds who share that stream of expressiveness which you can't kill by defining it, because it will overflow every circle you draw around it.
Jimmie RodgersIt's the same energy that Jimmie Rodgers knew." The bitter-sweet 'LONESOME', the 12string blues 'ANOTHER LONESOME COWBOY', the heartfelt 'LITTLE BIT OF LOVIN' and the intense 'WHEN I HOLD YOU IN MY ARMS' are Michel Montecrossa's own contributions. He says: "They are sap of the roots. They are from the place where I can easily see Jimmie Rodgers. And I see him as the root and most precious flower of country music because he embodied that rare soul-power which by its innocence brings new light. Jimmie Rodgers had that innocence and his music and personality radiate it: touching and naked."
Jimmie RodgersDue to tuberculosis his life was short, beginning in poverty but it was crowned for a few quickly fading years by an immensely creative career. Born on 8th September 1897 in Pine Springs, Mississippi as the son of a railway foreman he made his way through as brakeman with little to loose and all to win. In 1924 he turned to songwriting and performing. In 1927 his music rose to popularity and from then on he bravely fought the battle against death with one song after the other, right to the end. His body died on 26th May 1933 in a New York hotel while working on his last recording. But his soul is ever present in his music with the freshness of selfrenewing life, the simple mystery.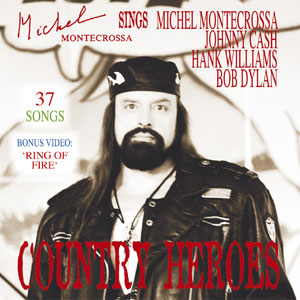 Country Heroes
Michel Montecrossa sings Michel Montecrossa,
Johnny Cash, Hank Williams and Bob Dylan
'Country Heroes', released by Mira Sound Germany as interactive double CD-Plus with 37 songs, the bonus video 'Ring Of Fire' and Internetdata is featuring Michel Montecrossa's new country songs as bright stars of the incredible expressiveness and work of a true genius.
'Country Heroes' presents 17 original new country hit songs by Michel Montecrossa including 'Let Me Be With You Tonight', 8 songs originally performed by Johnny Cash including 'Ring Of Fire', 11 songs originally performed by Hank Williams including 'Alone And Forsaken' and 1 song originally performed by Bob Dylan 'Kingsport Town' plus one Bob Dylan song which he wrote for Johnny Cash: 'Wanted Man'.
'Country Heroes' is Michel Montecrossa's fantastic new country art. He says:
"My new country songs are true and real because I live in the country. They are like warm sunshine. They are rooted in the land which is eternal and turn to our humanity, friendship, love and hope. With my new country songs you will easily feel at home."
'Country Heroes' features the following 17 new country hit songs by Michel Montecrossa: 'Let Me Be With You Tonight', 'Various Girls', 'Take Me As I Am', 'I Ain't Got No Trouble', 'Green Valley Of Love', 'Streetlovin'', 'Goin' Down The Road Feelin' Great', 'Me And My Woman', 'The Ultimate Party Blue Grass', 'Happy Dance', 'Fire On The Water', 'Time Is Standing Still', 'Good Old Raisins And Peanuts Song', 'Wanted Girl', 'Truth Is Simple', 'Hank's Lonely Tears', 'Travelin''
'Country Heroes' also presents Michel Montecrossa's masterful interpretation of 8 songs originally performed by Johnny Cash: 'A Thing Called Love', 'Ghost Riders In The Sky', 'If I Were A Carpenter', 'Man In Black', 'My Treasure', 'Ring Of Fire', 'I Walk The Line', 'Wanted Man'
'Country Heroes' too presents Michel Montecrossa's deeply touching interpretations of 11 songs originally performed by Hank Williams: 'I Can't Escape From You', 'There's A Tear In My Beer', 'I'm So Lonesome I Could Cry', 'Hey Good Lookin'', 'Alone And Forsaken', 'I Could Never Be Ashamed Of You', 'I Can't Get You Off Of My Mind', 'Wait For The Light To Shine', 'I Saw The Light', 'Baby We're Really In Love', 'There's Nothing As Sweet As My Baby'
'Country Heroes' in addition to the song 'Wanted Man' which Bob Dylan wrote for Johnny Cash is presenting Bob Dylan's folk-based 'Kingsport Town' in Michel Montecrossa's sovereign interpretation.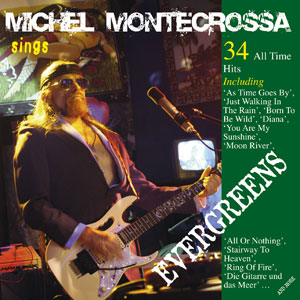 Michel Montecrossa sings Evergreens
'Michel Montecrossa sings Evergreens' released by Mira Sound Germany on 2 Audio-CDs presents Michel Montecrossa's incomparable and rejuvenatingly unique new creation of 34 evergreens and all time hits including ''A Thing Calles Love', Ghost Riders In The Sky', 'Dreaming With Tears In My Eyes', 'You Are My Sunshine', 'Alone And Forsaken', 'Ring Of Fire', 'Along In The Sun And The Rain' and many more unforgettable tunes.
Michel Montecrossa sings great songs originally performed by Dooley Wilson, Johnny Ray, Tommy Roe, Bob Luman, Howlin' Wolf: Chester A. Burnett, Elvis Presley, Johnny Cash, Lonnie Donegan, Stan Jones, Bing Crosby, Big Bill Broonzy, Steppenwolf, Paul Anka, Françoise Hardy, Jimmie Rodgers, Holly Sherwood, Robbie Robertson, Jimmie Davis, Janis Ian, Freddy Quinn, The Platters, Johnny Mercer, Cher, Led Zeppelin, Hank Williams, Lara Fabian, Woody Guthrie, Pattie Paige, Dean Martin.
Including legendary movie songs from 'Casablanca', 'Streets Of Fire', 'Star Trek', 'Breakfast At Tiffany's', 'Divine Secrets Of The Ya-Ya Sisterhood', 'Final Fantasy', 'Natural Born Killers'.
The Songs: 'As Time Goes By', 'Just Walking In The Rain', 'Sheila', 'Red Cadillac And A Black Moustache', 'Sittin' On Top Of The World', 'The Next Step Is Love', 'Rip It Up', 'A Thing Called Love', 'Does Your Chewing Gum Lose its Flavour On The Bedpost Overnight', 'Ghost Riders In The Sky', 'C. C. Rider', 'Born To Be Wild', 'Diana', 'Rêve', 'Dreaming With Tears In My Eyes', 'Tonight Is What It Means To Be Young', 'Unbound', 'You Are My Sunshine', 'Star', 'V.I.P.', 'Melodie Der Nacht', 'You Are My Destiny', 'Only You', 'Moonriver', 'All Or Nothing', 'Stairway To Heaven', 'Alone And Forsaken', 'Mer', 'Ring Of Fire', 'Waiting For You', 'Die Gitarre Und Das Meer', 'The Dream Within', 'Along In The Sun And The Rain', 'You Belong To Me'
Order all Michel Montecrossa and The Chosen Few Audio-CDs, CD-Plus, DVDs, Books and Merchandise directly from Mira Sound Germany
Mode of payment: Visa-, Master-, Euro-Card
Phone: 089-8508555, Fax: 089-8509178
eMail: MiraSound@Mirapuri-Enterprises.com
Click here catalog: Audio-CD & CD-Plus
Click here catalog: DVD
Click here catalog: Book